MELEA SAVED FROM DOMESTIC VIOLENCE
Melea is a mother of four children living in Zuzu village, Zuzu ward, in Dodoma municipal, Dodoma region.She is currently living with her two children (a son and daughter) and three grandchildren. Melea is a widow and blind woman who is currently being taken care of by her 13 year old daughter (last born) called Suzanna. Suzannahad to drop out of school and take care of her mother following the disappearance of Melea's other two daughters who decided to leave their mother without any support or communication. Melea started to experience violence from her own son soon after the death of her husband many years back andshe believes that being blind and awidow are the major reasons she experiences violence particularly from her own son, who wants to sell all the properties left to her by Melea's husband.
Melea has been frequently and brutally beaten by her son whenever she tried to stop him from selling her properties. "I used to stop my son from selling my land and this has become a conflict between us and I end up being beaten. He has already sold the piece of my land and he wants to sell the remaining part, which is where we live right now, he has started to destroy the house, takingthe iron sheets which serve as a rooftopand selling them,  something that places us in difficult times during the rainy season since our roof lacks enough iron sheets to cover our heads"– says Melea.
Her son has been trying to sell property owned by Melea and has reached the point of stealing from home.One day he tried to steal things at home and fortunately he wascaught by his young sister Suzan who decided to report to her mother. When Melea asked why he is behaving like that, she was brutally beaten. Suzan tried to intervene but she also ended up beingbeaten by her brother. Melea and her last born daughter (Suzan) continued living in such conditions for many years, suffering from violence and getting difficult moments during the rainy seasons since iron sheets were taken by the son and sold, and this included staying awake most nights as the whole houseflooded with water.
The neighbors often tried to intervene Melea`s situation particularly her son's behavior as they were tired of his behavior but he would  abused them as well,and he would never take heedto what he is told.
From June 2018, Reaching the Unreached Tanzania (RUT) started to implement community based activities in Zuzu ward and heard of Melea's case. RUT's team reported the incident to the localgovernment offices and police station and made a follow up to ensure that Melea's son is prosecuted. When the son heard that he is most wanted by police in Dodoma, he disappeared from the village and now it is the fifth month since his disappearance. Currently Melea and her daughter are free and living in peace.
RUT also decided to repair Melea's house particularly the roof to ensure Melea and her daughter are safe during the rainy season. RUT provided hardware such as wood and iron sheets to Melea and she is now living very comfortablyin their house.
The picture above shows RUT staff (on the right side) and Melea's daughter – Suzan (left side) when she went to visit them after hearing Melea's case. (June 2018).
The picture above shows RUT staff (in black t-shirt) with Melea's family when she went to visit them to track their progress after a number of interventions undertaken on them.
The picture above shows a roofing constructor repairing Melea's house
IMPROVED NUTRITION STATUS AND AGRICULTURAL INVESTMENT OF ROSEMARY'S FAMILY
"My life became very difficult since the day my beloved husband passed away, everything changed I lost hope of living, sometimes I felt like giving up and got suicidal thoughts. I decided to sell all the farms my husband left us and some cattle, however the situation remained worse"– said Rosemary.
Rosemary is a mother of 7 children living in Zuzu ward, Dodoma region.  Rosemary runsher daily life depending earning money from livestock after selling milk and eggs. Despite of having livestock such as cattle and hens, she never provided her children with milk or eggs,a practice that led to a poor nutrition status of her family. Rosemary's family mostly depends on one type of food ie. Finger millet and corchorus.
"I never allow my children to either drink milk or eat eggs, our life depends on livestock to get money however small. As you can see I cannot depend earning money from agricultureand as you can also see, I have a small piece of land for which can only accommodate subsistence farming and the production of food only for my family,but not for commercial purposes".
She never knew the benefit of providing her family with milk and eggs.Rosemary, like many other people especiallythose living in rural areas in Tanzania, lack knowledge on nutritious feeding, most eat to feed their stomach only but do not know anything about a well-balanced diet.
As Dodoma is a semi-arid region in most areas, the land is dry causing Rosemary`s livestock which lacks enough food, to be very thin and produce very little milk. She has young children all depending on their mother, they help in domestic activities. She thought life would be easier after selling the farms and some cows left by her husband but things were different. Rosemary could not send her children to school, as a widow she tried to find help from her husband`s relatives but they never really helped her.
In 2018, Reaching the Unreached Tanzania (RUT) met Rosemary and decided to be a change agent to her life by providing her with different support. RUT offeredher nutrition counseling, with a specific emphasis onthe importance of Rosemary's family taking a well balanced diet, especially with the inclusion of milk and eggs.
Recently, she has started to provide her family with milk, eggs and meat whenever it is possible. Her children's health status has increasingly improved and she has now become a nutrition pioneer in her village.
RUT also lenta farm toRosemary for the purpose of making her increase investment in Agriculture for commercial purposes but also to secure enough food for the family. Currently, Rosemary is in the preparation of the planting season.
''I`m thankful to this organization (RUT) as they have saved my family from poverty, God will bless them"– Rosemary.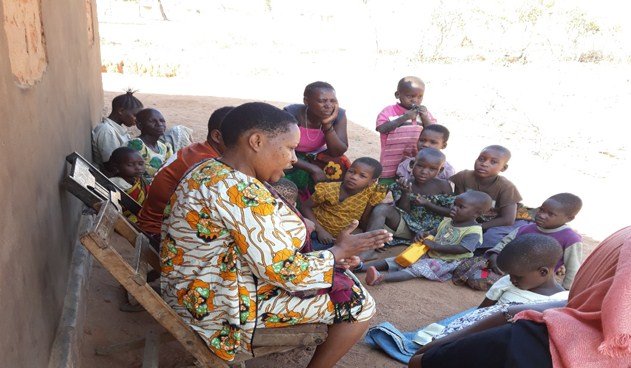 The picture above shows RUT's Community Health Worker speaking with Rose's family and relatives on nutrition. (June 2017)
The picture above shows RUT's representative (Mr. Jordan Ndela) showing Rosemary (the one in the blue blouse) the farm provided by RUT
The picture above shows Rosemary's Cattle
FGM Free Generation Project Became a Miracle to Two Young Girls
"I thank this project very much because it has come to save my two daughters from getting circumcised. We had only remained with two days to take them to Ngariba for circumcision as our traditions requires all girls and women to undergo circumcision.  Since I got training from RUT, I changed my mind and share the information with my husband and together we agreed to stop circumcising our children.
Introduction
Habiba Saidi is a girl aged 27 years old lives in Gahara village, Thawi ward, Kondoa district in Dodoma region. She is married and has three children; two girls and one boy. Habiba lives in the community which consider FGM as the most important cultural practice, with beliefs that by circumcising a girl ensures and preserves virginity, marital faithfulness, prevents prostitution and cure some of the diseases ("Lawalawa disease"). Furthermore, her community takes FGM as a necessary practice for a girl to go through to be considered a responsible adult member of a given society. 
Problem
Dodoma region is the second region with high prevalence of FGM/C in Tanzania with prevalence of 47%, which is above national average (TDHS 2015-16). According to baseline survey conducted by RUT and GCC in 2019 reported Kondoa district as one of the districts with many FGM cases in Dodoma region. FGM is strongly observed in the community where Habiba belongs and currently FGM is done to children to reduce opposition. Habiba's two young girls were about to undergo FGM in September 2019 just few days before Habiba participated in the training on SRHR.
Successs
In 2019 Reaching the Unreached Tanzania (RUT) started to implement the community-based project aiming at improving Sexual and Reproductive Health and Rights (SRHR) by ending Female Genital Mutilation/Cutting (FGM/C) in Dodoma region. The project is funded by Grand Challenges Canada (GCC).
As one of the key project activities, RUT conducted training for intermediaries to support the implementation of project activities. Trained intermediaries included health workers facility based (ie. nurses), health workers non-facility based (ie. community health workers), non-health service providers (ie. teachers, peer educators), family members, religious leaders, and traditional leaders. The training aimed at imparting knowledge to the intermediaries on the concept of female genital mutilation, its impacts in the Sexual Reproductive Health and Rights (SRHR) as well as to build awareness of existing legal provisions related to ending FGM/C practices as well as mechanisms for reporting and obtaining assistance. The unique approach of conducting training, outreach and awareness activities on the FGM/C was adopted to mobilize intermediaries in order to become the advocates of change in ending FGM/C.
Habiba was selected to be one of the community health worker in her village Gahara. She participated in the training and just immediate after training Habiba acknowledged that the training had significantly changed her mind and belief. Habiba declared that she had a plan of taking her two young girls to female genital cutters (Ngariba) to get circumcised as per community belief but the training imparted her knowledge on the effects of FGM on SRHR. After the training she imparted knowledge to her husband and all together decided to stop the plan of circumcising their girls.
"I thank this project very much because it has come to save my two daughters from getting circumcised. We had only remained with two days to take them to Ngariba for circumcision as our traditions requires all girls and women to undergo circumcision.  Since I got training from RUT, I changed my mind and share the information with my husband and together we agreed to stop circumcising our children and currently I am working under RUT as Community Health Workers whereby I spent my time to educate the community on the consequences of Female Genital Mutilation (FGM) to Sexual and Reproductive Health and Rights (SRHR)". says Habiba Said a community health worker from Gahara in Kondoa District.
Currently, Habiba works under RUT as a CHW to create awareness on the consequences of FGM on SRHR. She works in village dispensary during ANC and PNC services to disseminate information/knowledge to women and men attending the clinic, but also she works in the community. Habiba has become one of the active intermediaries in advocating for SRHR through fighting FGM in her village.
RUT M&E Officer Agness Daima with Habiba Saidi (Intermediary) at Thawi Ward Office during supportive supervision.
Habiba Saidi (Intermediary) sharing her experience to RUT M&E Officer on FGM Practices